Posted:
May 17th, 2013 |
Author:
admin
|
Filed under:
Dog Lifestyle
,
Hollywood Dog
,
The Complete Single's Guide to Being a Dog Owner
|
Tags:
adopt
,
dog
,
dog adoption
,
dog rescue stories
,
los angeles dog rescue
,
pitbull
,
Sophia Bush
|
No Comments »
Mother's Day is a special time filled with family and gratitude. While many of us consider our dogs family– and I for one am eternally grateful to my dogs—do you ever ask yourself, what about their family?  I am talking their canine family…I know you're their family! What if they could reconnect with their biological brood? Would they recognize their mommy? Would they look like their brothers and sisters? Would they fight like sibling?
Courtesy of Wags & Walks a Los Angeles-based dog rescue group, these questions and so much more were answered this past Saturday for one very lucky litter that almost wasn't.
Here is their story:
In March 2012, Wags and Walks founder Lesley Brog discovered Jasmine, an abandoned Blue Nose Pitbull that had been dumped at a Southern California shelter. Jasmine's body bore the signs of neglect and of what appeared to be severe over-breeding.
"Even though her body was swollen and her coat dull, Jasmine radiated with love. "Her entire body wiggled with affection as she did her best to kiss me through the bars of the cold kennel." said Lesley , "I had to get this one out."
Lesley rescued Jasmine from the shelter and immediately brought her to the vet's to be spayed where upon a closer look, Jasmine's state was not just a sign of overbreeding but rather that Jasmine was pregnant and about to deliver at least 7 puppies!
Shocked, a little overwhelmed but mostly determined to help Jasmine – and now her babies, Lesley, with the aid of her husband Andrew, two daughters Macy (4) and Jesse (8) brought Jasmine's family into the world with the love and care she deserved.
Lesley had rescued over a hundred dogs at the point that Jasmine came into her life, but helping Jasmine to raise her pups, was a life-changing experience. She was deeply connected not only to Jazzy as she calls her, but also to her pups.
While difficult to let go, Lesley eventually found loving homes for each and every puppy. One even went to live with actress Sophia Bush! This was a lucky litter indeed.
But was that really going to be it? Wam, Bam Thank you Mam? Not a chance…
The special place that this litter had in her heart, inspired Lesley to pull together the first ever Rescued & Reunite Mother's Day Reunion.
Hosted at the posh Citydog! Club Boarding and Daycare in West Los Angeles, Lesley created the ultimate Mother's Day celebration for Jasmine and her 7 pups.  And this was no small feat! Some of the dogs and their new human families came from as far away as 100 miles to do what we all do on Mother's Day… eat, play and catch up with family.
Here is a very special video that truly captures the love and spirit of the day as well as of Wags and Walks.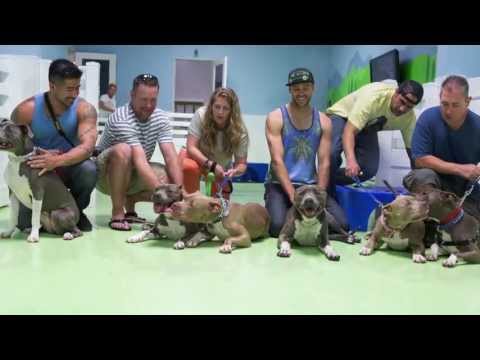 Email This Post
---